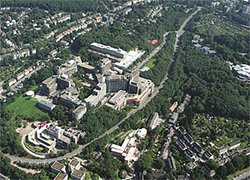 Bergische Transfer Round
The Bergische Transferrunde is a group of seven partners who are committed to technology transfer and are working together to promote the Bergisches Städtedreieck technology location: the University of Wuppertal, the Bergische Struktur- und Wirtschaftsförderungs-gesellschaft mbH, the Wuppertal - Solingen - Remscheid Chamber of Industry and Commerce, the Solingen Start-up and Technology Center, the Sparkasse Wuppertal, the Wuppertal Technology Center and the Remscheid Economic Development Agency.
Together, they want to promote cooperation between companies and the University of Wuppertal for the benefit of the region. In events, joint projects, working groups and workshops, the Bergische Transferrunde brings together company and science representatives to promote exchange and provide impetus for joint research and development that leads to new and better products.
Some results of the BTR are the Bergische Innovations- und Bildungskongress, which takes place every 2 years, the excursion weeks, which are held annually in spring, and the traveling exhibition.