Profile architecture of the University of Wuppertal
The University of Wuppertal is continuously developing its profile in research and teaching. This brings together existing strengths, releases new synergies and strengthens the visibility of our potential and achievements. The clear profile architecture supports the implementation of our principles:
The University of Wuppertal focuses on positive distinctiveness, for increased regional, national and international attractiveness and charisma.
It mobilises the potential of its members with a view to a clear resource orientation in the pursuit of common goals.
The tried and tested and the new are wisely weighed against each other in the sense of a balance between stability and flexibility, in order to make use of innovations without rashly abandoning the established.
Action at University of Wuppertal has a clear value reference: understanding society, culture, technology and nature as well as their change must go hand in hand with the endeavour to also help shape them and thus create a democratic, open and pluralistic society for future generations as well.

All content-related decisions at the University of Wuppertal are made within the profile lines that have been anchored in our mission statement since 2009 as strategic, interdisciplinary focal points:
Profile line a) Building blocks of matter, experiment, simulation and mathematical methods.
Profile line b) Education, knowledge and culture in social contexts
Profile line c) Health, prevention and movement
Profile line d) Language, storytelling and editing
Profile line e) Environment, Engineering and Safety
Profile line f) Entrepreneurship, innovation and economic change
Since then, the systematically promoted inter-faculty cooperation has led to a differentiation of the profile lines and a further setting of priorities. BUW's particularly promising research fields, referred to as profile cores and profile areas, are the focus of further strategic development. They can be understood as separate focal points on and at the interfaces between the profile lines (see Fig. 1).
Further information on the profile lines
Profile cores are interdisciplinary scientific fields located on the profile lines or at their interfaces, in which the University of Wuppertal has now achieved international visibility in the research landscape:
Profile core a) Digital Archiving and Editing
Profile Core b) Materials.Inspire.Systems
Profile Core c) Mathematical Modelling, Analysis, and Simulation
Profile Core d) Mobility and Energy
They have demonstrated their potential through correspondingly high-calibre research output. The researchers cooperating here have acquired one or more large collaborative projects within the framework of highly competitive funding formats, especially from the DFG, or have a good chance of such success in the near future.
Further information on the profile cores
Profile areas are also interdisciplinary scientific fields at the University of Wuppertal located on the profile lines or at their interfaces with above-average research output and high recognition in their community, which have good prospects of success in the medium term in highly competitive funding formats such as the DFG's "Coordinated Programmes":
Profile area a) Artificial Intelligence and Data Science
Profile area b) Atmosphere and Environment
Profile Area c) Building Blocks of Matter
Profile area d) Heterogeneity in Education and Society
Profile area e) Multilingualism
Profile area f) Change in Science and Technology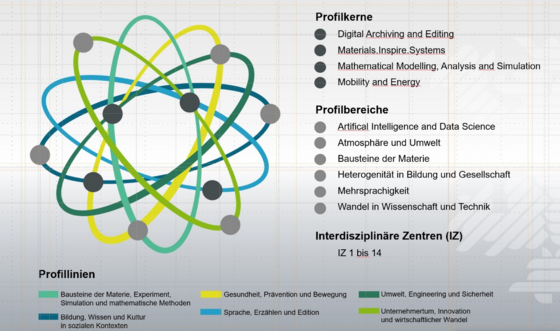 The design of the profile architecture makes it clear that one of our university's core competencies is the interdisciplinary integration of its research activities. Institutionally, this special quality of our young university of 'short paths' is embodied in interdisciplinary centres and institutes. A further expression of its interdisciplinary competence are the Collaborative Research Centres, Research Groups, Research Training Groups and Research Associations located at the University of Wuppertal.