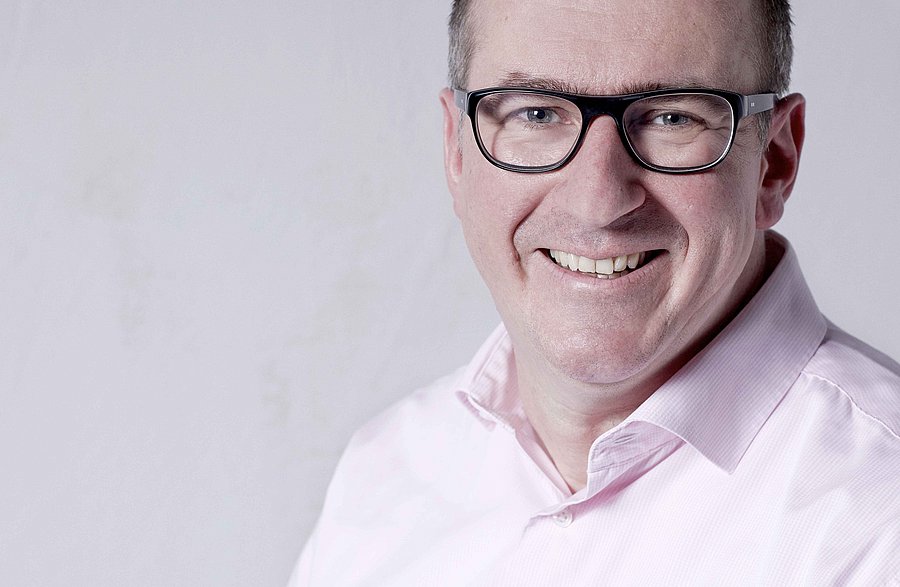 Regional basic research leads to cooperation with the German Aerospace Center
Prof. Dr.-Ing. Kai-Dietrich Wolf on the work of the Institute for Security Systems (ISS) of the University of Wuppertal at the location of Velbert

"The companies here must become more self-confident and also cooperate with larger partners on a transregional level," says Prof. Dr.-Ing. Kai-Dietrich Wolf, who has been heading the Institute for Security Systems (ISS) of the University of Wuppertal in Velbert since 2009. When he came to Wuppertal eleven years ago, he was particularly interested in the company contacts. "Wuppertal is well known for security, for the department of safety engineering and has a good reputation. The Bergisch Land is an interesting region, mechanical engineering has a long tradition here," he explains, "because it is not at all easy for scientists to establish company contacts and thus a network with a topic. I found that particularly attractive". Since then, he has been teaching young students in mechatronics and at the same time managing the Velbert Institute, whose current research focus includes the fundamentals of quantitative security analysis and the application of innovative technologies for modern access control systems. "We make basic research out of the knowledge that exists here and that has been built up over decades in the field of security systems". Wolf is taking advantage of the long tradition of the region, which has a lot of security knowledge in the area of locks and fittings, for example.

A start-up in 1995 makes the region sit up and take notice

An interesting development in this context is the founding of the company SimonsVoss Technologies in 1995, which today advertises on its website with a digital locking cylinder. "They have made a very successful entry into the market with electronic locking systems," he reports, "that was a wake-up call for the region. Even then, the focus was on basic research, whose know-how is indispensable for the development of new technologies.
The research content of the institute includes the predictability of changing security needs, i.e. no crystal ball wisdom, but understanding the development of requirements for changing security systems. "There are processes of social change and technological developments. If you have understood the mechanisms of security and know what security actually consists of, i.e. protection in the broadest sense in the form of doors, gates, fittings, fences and site security or surveillance equipment such as video cameras, you can also understand how the demands on technologies change." And there is a particular paradigm shift to be observed, says the Wiesbaden-born researcher, because over time it has been seen that the use of drones, for example, requires new patterns of thought, since all previous security systems were ground-based. "They have fences and barriers to keep intruders out and with the drone they can simply fly over them." In this context, Wolf also deals with the use of artificial intelligence, but admits openly: "AI always depends on learning, i.e. trial and error. That does not work in the security sector. If they make mistakes, they are out of business. The evidence one has in other areas does not exist here."

Security standards via metrics

A research result and unique characteristic of the institute is a so-called security metric for physical security. In contrast to trial-and-error, metrics can provide targeted information. "I can use metrics to derive a number, for example, that reflects the security of an infrastructure in the form of risk assessment or risk reduction," explains the scientist. These should also be objective and reproducible, i.e. ideally lead to the same result every time. Metrics can be used to weigh up risks against each other. Wolf emphasizes that there are contradictory requirements, especially in the area of safety security. The best example for risk assessment is the current pandemic, where the consequences between the absolute lockdown and the resulting economic consequences must be considered. This weighing up is not easy, as we all know. Electricity network operators could also be helped in the risk assessment by metrics, for example in the event of a grid failure or a threat to the electricity grids.

Cooperation with the German Aerospace Center (DLR) with knowledge from the region

With the courage to also appear confidently on the national and international stage, Wolf is building up an impressive cooperation with the German Aerospace Center (DLR). "This is about a new DLR Institute for the Protection of Terrestrial Infrastructures," he says enthusiastically, "it is about critical infrastructures such as power grids, IT networks, water supply, transport infrastructures and airports. The aim is to evaluate the resilience of these infrastructures so that the security history of a critical infrastructure can be mapped in a quasi real-time manner." Here he benefits from more than ten years of experience in basic research. "We were approached because of the publications and want to build on these foundations." The 52-year-old is particularly proud that his first doctoral student, Dr. Daniel Lichte, is to take over the management of the basic research department there, and once again emphasizes the success that is based on the work in the Bergisch region. "Our foundations are the basis for what is happening there. We have created them! We have taken the knowledge from the region and turned it into basic research, i.e. we have put it into a scientifically usable form. This is now being applied, this is being developed further and I find this very exciting." Many future opportunities for cooperation between science and industry may still arise from this project, which is why Wolf sees it as a strong signal for the Bergisch companies and never tires of motivating them. "In the meantime, I have got to know many entrepreneurs, for example through Rotary," he says and promotes the view beyond the Bergisch plate in personal talks and joint social activities. "The companies like to cooperate with those they know. But this is not always the right strategy to start the future digitalization. You have to think about joining forces with the really big ones, and that is actually my goal!" The scientist pleads for substantial investment in joint innovation. The paradigm shift towards digitalization no longer allows for low investments and calls for new approaches. "There are companies here, which sometimes have 4,000 to 6,000 employees and products in the digital field," he knows, "and this is where we need more self-confidence. We would all like the world to come and say how great it is in the Bergisch Land. But that will not happen. But what we have is good! Then you have to get together with bigger partners and see what else you can learn."

Why people perceive new technologies as a threat

New technologies also bring with them previously unknown security risks. Wireless authentication is one of them. The population knows it from paying with EC cards or chip cards. Many are reluctant to accept these new developments and, according to Wolf, this is due to the fact that people are not familiar with the new threats. "Purse theft, wallet theft, we know that. If you put a conventional key on the table today and take a picture of it with your cell phone, for example, then specialists can copy it directly - but we are obviously not afraid of that. A modern car key that no longer needs to be put in the ignition lock can be easily tapped with a laptop to extend the radio signal. So someone else can drive away with your car. This is then shown on the news and unsettles people." These examples lead the scientist to look for solutions that are often found in an interdisciplinary environment. Wolf spontaneously knows a colleague from electrical engineering who is working on these problems and also sees a hidden potential in the Bergisch economy. "The question here is, how can I evaluate the systems in such a way that they guarantee private data protection? This can become a unique characteristic, what we can achieve is an European perspective, a German perspective and also a perspective for the companies in the region". The big advantage, he says, is the experience we have with these systems, and that is where we should position ourselves, because, he continues, "this is a future issue for companies: Taking into account the data protection rights of the users".
The discrepancy between safety and security

The use of technical systems to improve safety can be contradictory. For example, the locked door that keeps the attacker away can become a deadly trap for the fugitive who cannot open it. Experts speak of interactions between safety and security technologies. A dilemma? For Wolf, priorities must first change. "We have lived in a state of mind in which we have always said: 'Safety first'," he emphasizes, "and the fact that we are increasingly seeing security threats, networking, and international threats from terrorists are bringing security requirements into focus." This is where the metrics mentioned at the beginning come into play again. "Through an objective, quantitative evaluation of security, I can find an optimal configuration, taking into account all the uncertainties that always exist. Or imagine that a system recognizes whether it is a safety or security scenario. Then I can open or lock the door and no longer have to weigh up between safety and security. And that already exists. It is the very simple mechanical techniques of the panic lock. If you have a panic lock on your front door, it always locks when the door falls into the lock. If you hit the door handle from the inside, the lock always opens, no matter whether it is locked or not. Then you have decoupled the scenarios because the lock recognizes, from inside to outside always open, from outside to inside keep closed. There will be more systems in this direction in the future. It is not difficult to collect sensor data from the environment through increasing networking and then you already have information about the scenario at hand. And the next step is then the AI, which can recognize a situation and take security measures if necessary".

Regional platform for Bergisch companies

"Smart access actually means opening doors or wireless authentication with a smartphone," says Wolf, a procedure that can be used to open buildings and doors or start the car. New business models are already developing in the mobility sector, such as the so-called Delivery to Trunk. "For example, you simply order from Amazon and they deliver it directly to your car. The parcel carrier then opens their trunk and puts the goods in. With Smart Access, you can distribute the one-time locking authorization for delivery over the phone." Sharing Economy, an economic model that allows companies or private individuals to share rooms, vehicles and other resources, is also only made possible by passing on authorizations to third parties via the smartphone. "We are already seeing this in use with the omnipresent electric scooters in our cities. But what about data protection here?" With regard to these new technologies, a common platform could also be useful for the Bergisch companies for their connectivity. But the road is long. "Everyone involved must be aware of the challenges of data protection and data sovereignty of the users - not least also the funding agencies, and that is still a problem," Wolf commiserates, "but we need these platforms for digital data exchange in the Industry 4.0 area as well - there are already national and European initiatives in this direction. You have to join forces with the big players and give as many companies as possible the chance to participate and develop new data-based business models. We need European, German points of view. These are important fields of employment for companies in the region. And you have to dock there!"

Uwe Blass (Interview on 05.06.2020)

Prof. Dr.-Ing. Kai-Dietrich Wolf studied mechanical engineering and mechanics at the Technical University in Darmstadt and at UC Berkeley in California. Since 2009, he has been teaching the subject "Mechatronics" at the University of Wuppertal and heads the Institute for Security Systems (ISS), which was established in the same year and is based in Velbert.