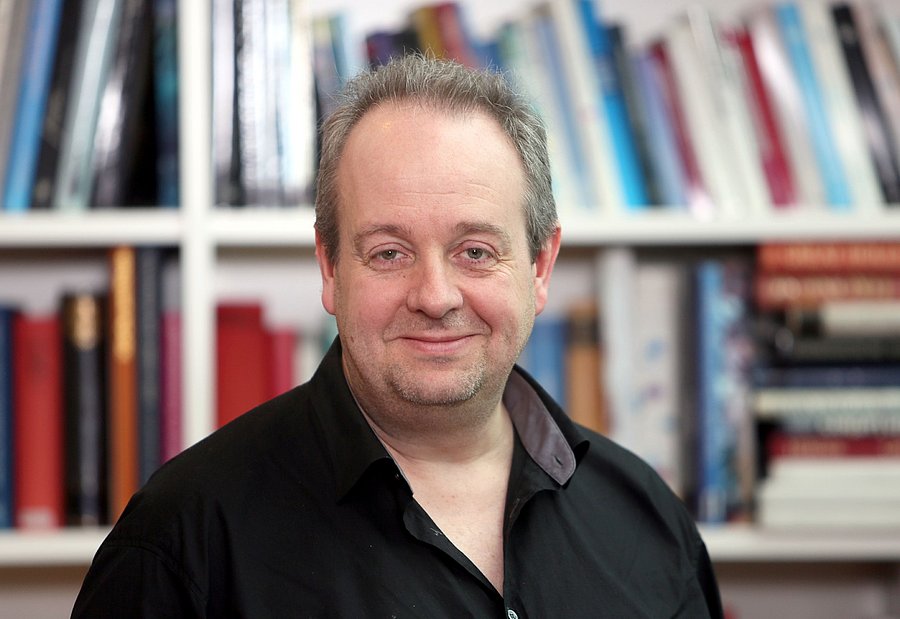 Choir and orchestra of the University of Wuppertal defy the performance ban with successful videos
Christoph Spengler, director of the choir and orchestra of the University of Wuppertal, produces two brilliant, musical clips with all members

"My loneliness is killing me..." sings Britney Spears in her 1999 single "Baby one more time". This line alone speaks from the soul of many cultural workers who are not allowed to perform during the Corona crisis. This fate also applies to the University Choir and the University Orchestra of the University of Wuppertal. No joint rehearsals, no communicative exchange, just a waiting game for cultural relaxation.

Music is my profession and my passion

Christoph Spengler, who also travels throughout Germany as a church music director, conductor and lecturer for various music projects, is looking for solutions to this crisis. "Music is my profession, but it's also my passion, so my whole day is filled with music," he says. "On top of that, I work very quickly and - I think - have a pretty good grasp of things. So a lot of things come easily to me, and I also find that the different areas I work in cross-fertilize each other. My working week probably has more like 60 hours than 30, but I very rarely experience this as overload. One reason is that I meet so many wonderful people in the musical groups I lead, and so much positive energy comes back. Once I sit in a choir or orchestra rehearsal, it doesn't feel like "work" at all."
In 2007 he took over the direction of the choir, and four years later that of the orchestra as well. Since then, both ensembles have grown steadily and the audience response has meant that the concerts have had to be moved to ever larger churches. Since 2016, the singers and instrumentalists have been making music in the Immanuel Church. And the concerts have a very unusual concept.
"I think a big appeal is that we move through such different musical genres in our concerts," he explains. "For example, the UNI Orchestra plays classical orchestral works as well as pieces from film music/musicals/jazz. The UNI Choir sings songs across a variety of popular musical styles: rock, Latin, pop, musical and more. And then there is the Baroque Ensemble of the UNI Orchestra, which is dedicated to early music, and the Holiday Choir, which is mainly in the jazzy genre. That colorfulness - I think - is a joy to listen to."
The commitment of all the singers and musicians in the ensembles to this common cause is simply overwhelming, he says, and this spark also comes across in the concerts. "We are always very proud when we can present our jointly developed program at the end of the semester. And we are grateful that so many people enjoy listening to us so much!"

Lockdown by Corona

The Covid 19 pandemic initially changes ... everything.
"This is really a bitter issue for us musicians. Not being allowed to rehearse from one day to the next was certainly a necessary measure, but it hurts us very much. And it goes far beyond just making music, because a choir and an orchestra are also a social community. We spend a lot of quality time together, which is very precious to us. All of a sudden, that completely broke away, and that hurts," Spengler reports. "I miss the rehearsals with 'my' people very much, and many people write to me that they feel the same way. Unfortunately, it looks like it will be quite a while before it will be safe to sing together again, for example."

A new, brilliant idea is needed

Spengler takes the anti-cultural resolutions as an incentive to dream up and implement new ideas. "I wasn't going to resign myself to the fact that Corona meant UNI Chorus and Orchestra would come to a standstill. I immediately started developing a concept for online rehearsals. We meet online every week, and I rehearse with the UNI Choir. This is a little strange because they are "one way" rehearsals. That is, because of the time lag in the online videos (in technical terms, it's called latency), it's not possible for everyone to sing at the same time. Therefore, everyone mutes their mics, and I rehearse as if everyone were sitting in front of me, and the individual singers sing along at home. That takes a little getting used to at first. My wife joins in the rehearsals, so we can also sing in multiple voices, which increases the enjoyment factor for the choir members - and for us, too." It's even more complicated with the orchestra, he says, because Spengler can't audition all the instruments. "So we work here with tutors* from the Bergisch and Wuppertal symphonies, who create tutorials for us or rehearse online with small groups. We meet regularly for online meetings, where we talk about musical details and also discuss pieces for the next semesters." To make sure both groups have something to showcase, he came up with the idea of creating a virtual choir video and orchestra video each. "That is" he tells us enthusiastically, "each and everyone records themselves at home and sends me their video. I put it all together into a finished clip where you can see and hear everyone playing music at the same time."
The result is two music videos that spread good humor and show a way out of the crisis. Spengler calls it "a nice signal to the inside and outside!"

"Baby one more time" versus "Tennessee"

The choir has dedicated itself to the Britney Spears hit from 1999 "... Baby One More Time", a good mood song that is simply fun, an important prerequisite for the intensive project. "Moreover, the song is very rhythmic, which makes it easier to make music 'together'," Spengler says with a smile. "For the orchestra, I chose the piece "Tennessee" from the movie "Pearl Harbor," the 51-year-old says. He was also able to persuade a special soloist for the piano and orchestra piece. "We were able to get Yuhao Guo as the soloist, with whom we have also played together twice in our concerts. He is a wonderful person and equally brilliant musician and immediately agreed to the idea enthusiastically. The piece is beautiful and very heartfelt, a good contrast to the choral number."

90 tracks on the mixer for a good sound

Spengler does not fall back on well-known pieces, but studies both songs completely new, online. After the individual recordings, the real work really begins. "The post-processing was really tough for me. In the case of the choir, I had 42 videos, and in the case of the orchestra, 50. In addition, some of the musicians in the orchestra recorded their voices several times in order to create an even "fatter" sound. In the end, I had 90 (!) tracks on the mixing console for the orchestra piece, which had to be combined into a common sound. For the choir, there were 65 tracks." And then all the individual videos had to be synchronized, because "everything had to fit on top of each other. That was an incredible fiddling job. Also positioning the individual videos on the screen. The fan on my computer groaned at full speed for days because the computer had to juggle a huge amount of data.
But in the end it fit quite well, and the result - I think - can be seen and heard!"

One more time…

Both videos can be found on YouTube in https://youtu.be/nY4fuBf67xY for the choir and https://youtu.be/eA1NnTVih48 for the orchestra, or at the press page of the University of Wuppertal. "It has welded us together, and we are all very proud of the result" he says, "so if the crisis continues to make rehearsals impossible - and we'll probably have to reckon with that for a while - we'll move towards more videos." Despite the break in rehearsals, interested musicians keep coming forward to join the choir or orchestra. "We are of course very happy about this, and anyone and everyone who enjoys making music together - even if initially "only" online - is very welcome to join us!" He then also addresses his concluding words to his ensembles. "I thank everyone who has made these productions possible with so much enthusiasm and commitment from the bottom of my heart! These two ensembles are very special to me, and it is an honor and a pleasure to be able to make such wonderful music with them!"

Uwe Blass (Interview on June 9, 2020)
Christoph Spengler studied church music in Düsseldorf. In 2007 he took over the direction of the university choir, and in 2011 the direction of the orchestra. In 2016, the rectorate awarded him the Medal of Honor of the University of Wuppertal. In 2017, he was appointed church music director by the Evangelical Church in the Rhineland.