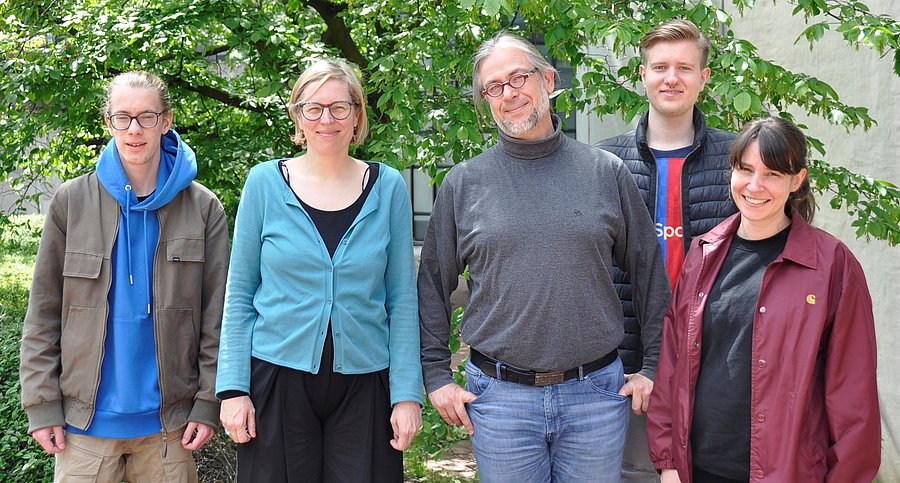 Bergische Uni is looking for student authors of the 'Schoolhouse Novel' project
The Germanist Prof. Dr. Kirsten Schindler and the school researcher Dr. Matthias Rürup are looking for former students of the Realschule Neue Friedrichstraße and the Gesamtschule Erich-Fried for a study on the Literature House project "Wuppertaler Schulhausroman".
In 2016, after almost seven years, an ambitious project of the Wuppertaler Literaturhaus came to an end, which was launched under the title "Wuppertaler Schulhausroman" (Wuppertal Schoolhouse Novel) by the then director of the Literaturhaus, the cultural journalist Anne Linsel, and created more than 16 stories with pupils under the guidance of Wuppertal authors. "The idea and initiative for the 'schoolhouse novel' actually came from Switzerland from Richard Reich," explains Matthias Rürup, a school researcher at Bergische Universität and, in succession to Anne Linsel, director of the Literaturhaus Wuppertal, "and is still very much alive there, in Austria and in Germany, for example in Hamburg and Bremen." It wasn't until 2021, the Beuys Year, that the "Schoolhouse Novel" project won the Social Sculpture Award. The Wuppertal Schoolhouse Novel, he said, is something of an offshoot with a limited run. In 2023, language didactician Kirsten Schindler and Matthias Rürup, who is also a staff member at the Institute for Educational Research at Bergische Universität, will offer a seminar that will examine the two most recent Wuppertal Schoolhouse Novels.
What is a schoolhouse novel anyway?
"The basic idea," explains Rürup, "was to approach schools and offer them a writing service for school classes. Accompanied by one or more authors, a joint text was to be developed. In other words, a novel that is jointly written in the school building." The project lasted twelve weeks, during which the students worked on their texts with the teacher in two double lessons per week. "The accompanying authors then always had the task in the time in between of reading everything that was written, sorting it, revising it and preparing the next chapter from it before the young people continued writing," explains Rürup.
Renowned authors made themselves available
Over the course of the project, eight authors supported the work of the young storytellers. "I would like to highlight the last two authors, Michael Zeller and Dorothea Müller, who are renowned Wuppertal authors with national appeal," says Rürup, "who then had the task of intensifying this book project." They gave tips on how to proceed and explained what it was actually supposed to be about. Between the writing phases, they then formed a coherent story from the individual texts, which could then be read in a flow, Rürup explains the procedure. "This was then brought to class each time and read aloud to indicate the current status."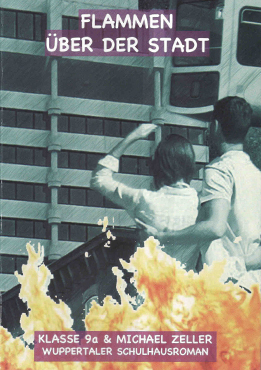 Stories from their own lives
The young people involved were in eighth and ninth grade at the time. The age group of 14- to 16-year-olds was chosen deliberately, because what all the stories had in common was the students' task of reporting on their own lives, and experience shows that a lot happens during this time. In doing so, the two authors chose different approaches, which Rürup explains thus. "Dorothea Müller suggested to her writing group that they focus on two protagonists, a boy and a girl who met and fell in love on a class trip, now come home and that with their family, their friends and with their whole environment clarify." Michael Zeller took a different approach and gave the assignment to start with an individual story. He then combined the narrative strands into a multi-perspective story. "So practically parallel stories were told, set in the same city, but also containing very strong elements of their own, such as fantasy elements that also show the kids in their own fantasy world."
Creative literary writing becomes research project
Eight years after its completion, the 'Wuppertal Schoolhouse Novel' project is now once again the subject of a seminar in teacher training. Kirsten Schindler is particularly enthusiastic about what she calls "a very successful project of creative-literary writing in schools, because it really works." She says it showed that everyone was able to write together, even students who may not have had much of an approach to literary and creative writing. Another interesting research approach for the researcher is the fact that this project was carried out at Hauptschulen and Realschulen, as well as at comprehensive schools. "After all, one of our objectives is to familiarize student teachers with such successful concepts," she reports. She also wants to find out what creative engagement with texts might have triggered in the young people and wonders, "Did they engage with it for longer? Has it been meaningful to them? We don't know anything about that. Even in research, we don't know how sustainable certain forms of writing arrangements are." The seminar is designed to enable young student teachers to use research methods to explore these questions.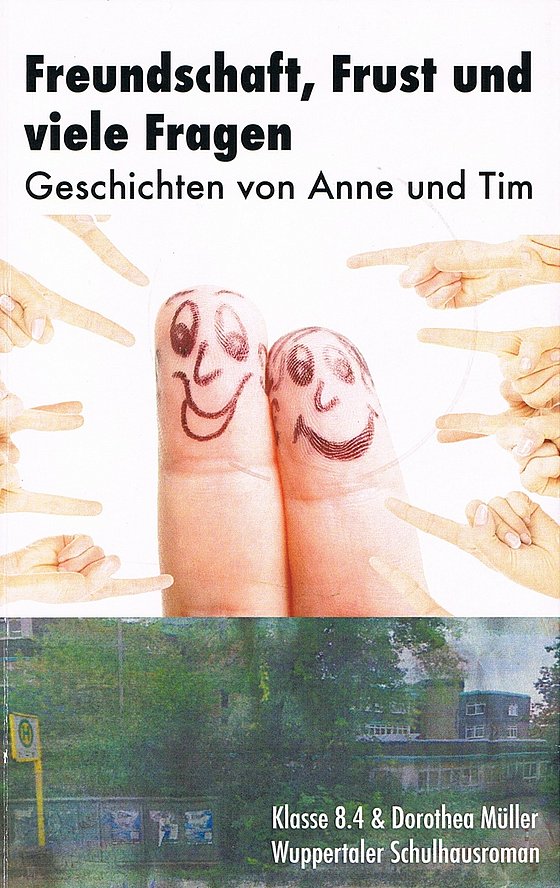 The novels
The seminar focuses on the last two Wuppertal schoolhouse novels "Flammen über der Stadt" and "Freundschaft, Frust und viele Fragen. Stories of Anne and Tim". The main reason for this, Schindler explains, is that there is extensive documentation on these two books. In addition, the author involved, Michael Zeller, had already been to the seminar and was always available as a 'witness', so to speak. The author Dorothea Müller, who has unfortunately passed away, also has materials available, so that extensive knowledge about the development of the project is available.
Wanted - Former students are wanted for research project
In addition to the extensive material available, the seminar is now looking for contemporary witnesses. The seminar participants are actively involved in this process and in turn have questions for the student authors of the time. For example, student Anna-Laura Viethen would like to know whether the students had changed as a result of their work on the texts. "I'd like some information about whether that changed the group dynamics in the class, whether perhaps reticent students then got more involved and new group constellations emerged." He also said it would be very interesting to know whether the authors might have developed a character who showed a very different life situation and therefore different emotions. Laurids Dinger, another member of the research group asks, "With what motivation do you think the students participated?" because unlike non-fiction text analysis or poem interpretation, this project was not graded. And what happens when those involved meet again today? Fedor Ehser, another student on the team, wants to know what the former students still remember and whether they would have collaborated or rather written as individual authors back then.
The result of the project was also presented at the time with a reading at the Schauspielhaus. "It was a big project for the initiators," explains Rürup, "and we'd like to find out whether it was perhaps biographically formative, or just a moment in everyday school life with a final product."
Help from social media
The students have read the two novels and noted the names of former students. "The difficulty is that they may have already moved," says Dinger, and fellow student Ehser adds, "It's very difficult to make the first contact, because we can't just ring the bell. That's why we try to make contact through social media (Facebook and Instagram) and have had small successes." You need a public anchor, Rürup explains, so that alumni can make contact, and Schindler adds, "And the other thing is that when we find them, they then have enough confidence to help us." A strategy for this has already been developed in the seminar, in which the approach via teachers, notices and also possibly still school-age siblings was discussed. Although a new EMAIL address has been officially applied for at the university, Schindler also offers direct access: "The alumni are welcome to write directly to me, so you can see that there is a real person behind it.
Participants* in the 2016 Wuppertal Schoolhouse Novel are asked to contact Prof. Dr. Kirsten Schindler at kschindler[at]uni-wuppertal.de.
Uwe Blass

Prof. Dr. Kirsten Schindler heads the Department of Didactics of German Language and Literature with a focus on language didactics in the Faculty of Humanities and Cultural Studies. Dr. Matthias Rürup works in the Empirical School Research team at the Institute for Educational Research (IfB) at Bergische Universität. The students Anna-Laura Viethen, Laudris Dinger and Fedor Ehser are involved in the research project on the "Wuppertal Schoolhouse Novel" via the seminar "Creative Writing in Schools".