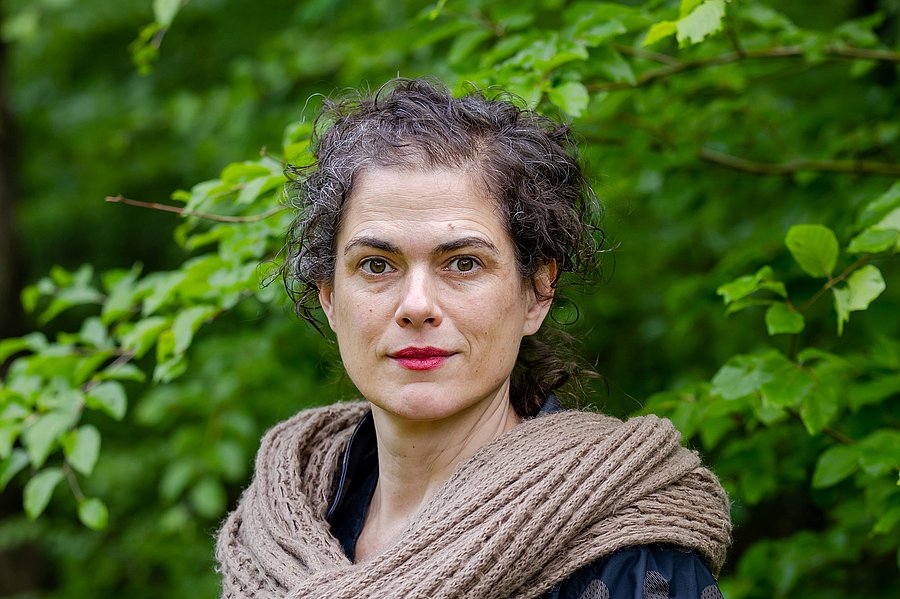 A composition of extraordinary snapshots
The semester art exhibition Screenshot at the Bergische Universität
Three days of grueling exhibition conception lie behind art professor Katja Pfeiffer, her collaborators Momo Trommer and Marc Kox, and some 50 students who prepared the spacious hallways of Level 13 at the Faculty of Design and Art in Fuhlrottstraße for the new semester exhibition "Screenshot." Pfeiffer, who has been teaching at Bergische Uni since 2006, has used a sure instinct to position the resulting semester works. "I can now trace Level 13 practically blind and know how to play the rooms," she says with a laugh. "My co-workers and I then first run nonstop in circles on the first floor of Building I, distributing the exhibits." In the process, they establish references between the exhibits that fit either formally, materially or in terms of content.
Although Pfeiffer is already familiar with the works on display in their process of creation, which she continuously accompanies, in the exhibition they are freed from their studio context for the first time and work in community with other works. "You can often determine certain neighborhoods only shortly beforehand and then combine the corresponding, formal similarities." Even first-year students can already participate in the exhibitions with small works. That all are equally effective then depends on the interplay of the works, when positions support or comment on each other.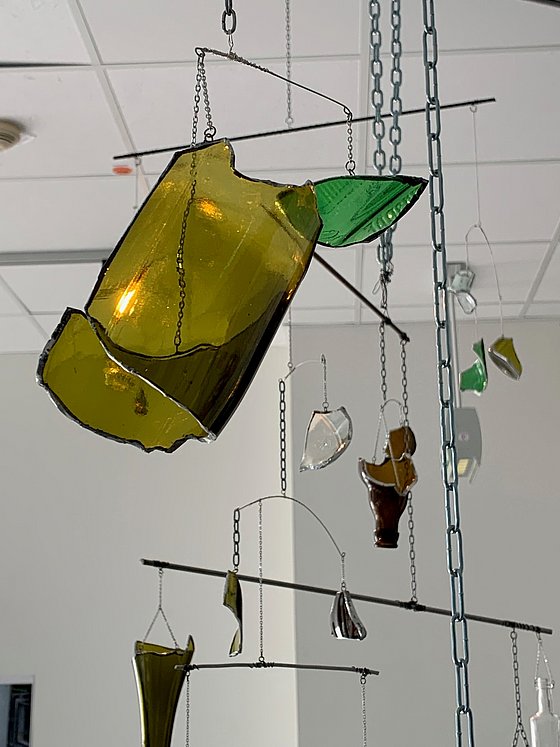 Art history and contemporary art are the inspiration
The students' ideas are as varied as the people themselves, Pfeiffer says, and you can tell a long story about each piece. "Z. For example, we have a student who lived next to a church. She always saw these church windows and also the interiors when she was a child, and she really wanted to deal with this particular spatial effect." That's how the topic of church windows came about, which you can deal with historically, technically or contemporary, Pfeiffer explains. This then extends from the classical leaded glass to modern glass art of the south transept windows installed in Cologne Cathedral in 2007, based on the design by Gerhard Richter, from which a separate theme is then developed piece by piece. In the exhibition, the student Kim Schröter now shows a kind of glass mobile with iridescent colors, as well as an illuminated furniture-like object with self-made lead glass panes.
With information from art history and contemporary art, the students find common ground in the creative process. One of my own professors at the Kunstakademie Düsseldorf, Jan Dibbets, pointed out that one can look for one's own "kin" in art history, so to speak," Pfeiffer explains, "that one joins a long line of artists who have already dealt with similar questions with one's own question."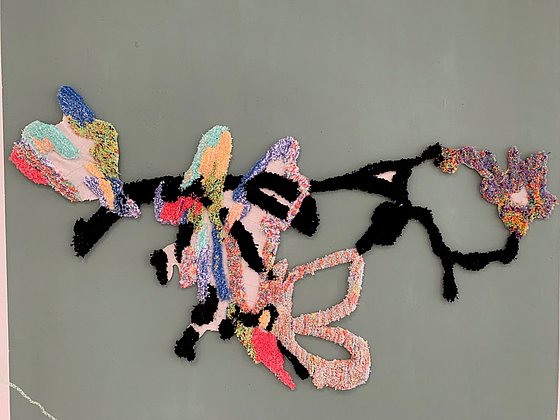 No subject guidelines - look around in your own life
Large and installative works are assigned first, with smaller works that fit in terms of content or form completing the overall picture. "There are never any guidelines," explains Pfeiffer, "and this year the students have dealt with very many different themes and used a wide variety of materials." Finding themes and materials is always up to the students, who are guided by the art professor's team. In the process, they find the forms and content of their works through questions and conversations. "Through this work process, they discover what really interests them, and only in this way can works emerge that authentically reflect their own interests and evoke curiosity in the viewer," explains Pfeiffer. "The students are basically looking around at their own lives." For example, works are created that stem from childhood memories or dream images, but also simply from everyday observations, questions that have always been negotiated in art. In other cases, projects are created that trace current contemporary issues, be it the field of gender identity, the problems of climate crisis and sustainability, questions of social justice, and much more.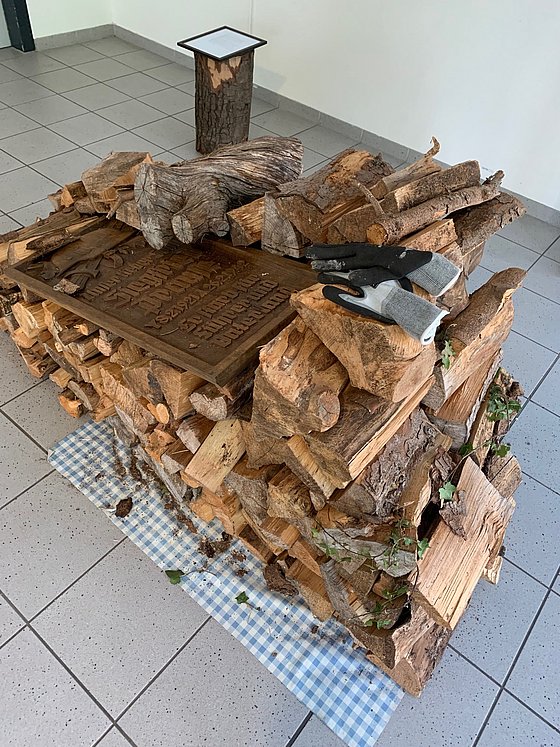 Family theme in many facets
In the exhibition 'Screenshot`, the art department presents a snapshot of the work in the middle of the semester, with some pieces already completed but others still being developed. "We try to compose the different works in the rooms together," Pfeiffer says, "it doesn't always have to be obvious to everyone, but in a way they fit together atmospherically to form a meaningful whole.
One room, for example, deals with the theme of memory. On display are, among other things, portraits of people whose faces are disappearing, an exploration of the subject of dementia. In parallel, a plaque commemorating a deceased World War II soldier lies on a pile of firewood. An 'objet trouvé`, transferred to the university as found in the garden. "In family terms, of course, this has a very upsetting significance," says Pfeiffer, and at the same time it is an example of memory culture that continues to be difficult to come to terms with. In general, the theme of family plays a role in various works. For example, large panels with paintings of family members give clues to the state of the family in their arrangement. And also with regard to tattoos, the exhibition deals with the family. For this purpose, a student has abstracted the different tattoos of all her family members, partly superimposed them in knotting technique in lines of different colors and woven them into a large wall- and room-filling installation.
The exhibition "Screenshot" can be seen until July 12, Monday through Friday from 9 a.m. to 8 p.m. at Bergische Universität in Building I, Level 13 (access via Fuhlrottstraße).
Uwe Blass

Katja Pfeiffer, born in 1973, completed a teaching degree in art and education at the Düsseldorf Art Academy in the classes of Günther Uecker, Alfonso Hüppi and Jan Dibbets, as well as a teaching degree in history at Heinrich Heine University. She was a master student of Alfonso Hüppi. Since 2006 she has been a professor of art with a focus on artistic practice at the Bergische Universität Wuppertal.