Erasmus+ study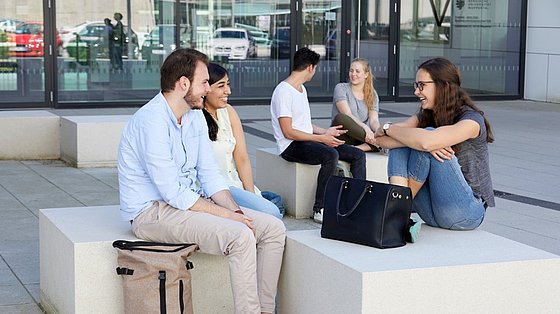 We are pleased that you are interested in an Erasmus+ study stay in Wuppertal and hope to be able to welcome you personally to our university soon.

Please note that you can only enroll as an Erasmus+ student if a valid "Erasmus+ Bilateral Agreement" exists between your home university and the University of Wuppertal for the period of your stay and the desired field of study. You can find a list of our Erasmus+ partner universities in the Download Center on the right.
Before you apply, we need the nomination of your university. So first you have to address your application to the concerned department of your home university to become nominated. After nomination you will receive automatically an email from the University of Wuppertal with all information about the application process.
The duration of enrollment as an Erasmus+ student is limited to a maximum of two semesters. The acquisition of a degree is not possible.
Do you need more detailed information? Then please contact us via our contact form.
As a visiting student, you have the opportunity to participate in German language courses offered by our Sprachlehrinstitut.
You can find information about the individual offers here.
You have already been admitted and your semester abroad in Wuppertal is just around the corner? We look forward to welcoming you to Bergische Universität soon. To make your start here in Wuppertal easier, the International Students Team (I.S.T.) offers a buddy programme. Your buddy will be at your side at the beginning and during your stay, be it for administrative tasks or everyday problems.
If you would like to participate in the buddy programme, please send an email to: buddy-uni-wuppertal[at]gmx.de by 26 February 2023 at the latest.
You will then be assigned a buddy who will contact you by email after the registration deadline (around the beginning/middle of March).
Please be sure to include your home country and your field of study!
Check out the I.S.T. social media platforms:
TikTok: https://www.tiktok.com/@ist_wuppertal
Instagram: https://www.instagram.com/ist_wuppertal/?hl=de
Homepage: http://www.international-students-wuppertal.de/de/
Facebook: https://www.facebook.com/ist.wuppertal/
Bergische Universität Wuppertal
Abt. 3.3 - Internationales Studierendensekretariat (student admission and registration)
Gaußstraße 20
42119 Wuppertal
Germany
Personal consultation hours in the Student Service Center (SSC) right at the main entrance (building G, room G.08.16):
Tuesday 9 a.m. - 12 p.m.
For organisational reasons, office hours may change sometimes. You can always find the latest information about office hours on the Student Service Center page under "News".
Telephone consultation and advice:
Wednesday 10 a.m. - 12 p.m.