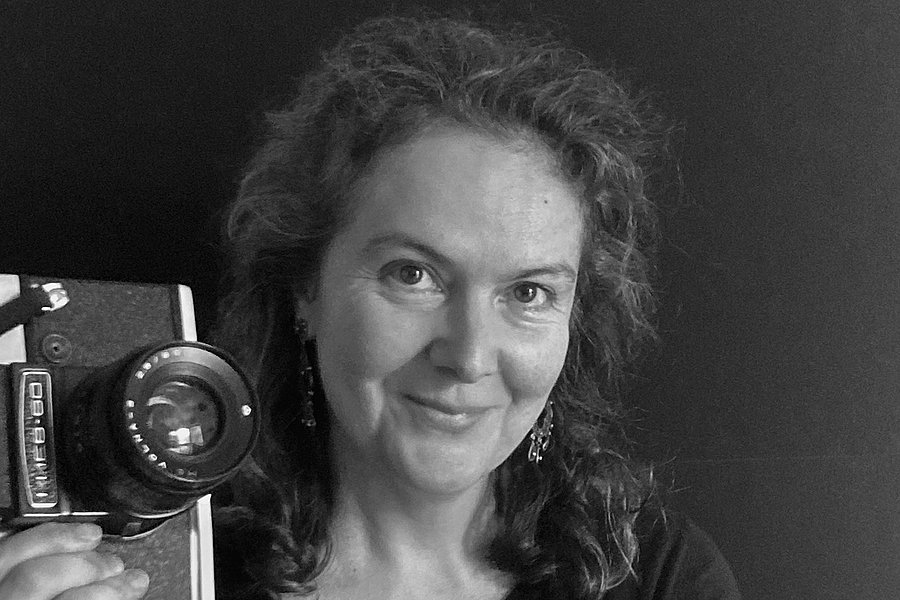 Playfully rediscover our past
Photo historian Carmen Pérez González uses an app to develop personal, intergenerational photo games
In times when public life is restricted, people are rediscovering the diversity of their own family life. This includes our history, which we learn through stories told by our parents and grandparents. In a world that is becoming more and more digital, photo albums still play an essential analog role in conveying these memories. "Pictures awaken memories, and that goes beyond the motif," says Dr. Carmen Pérez González, a photo historian and lecturer in history at Bergische Universität. Together with the FOUTURE research institute from Düsseldorf [part of milkmonkey gmbh], the dedicated native Spaniard has now developed a tablet app that can connect family life across generations and also has the potential to become an important research tool. The project has already been awarded the GründerStipendium NRW 2021 and the Existenzgründerpreis Rhein-Erft-Kreis 2021.
Golden Memories - The project
Behind the title "Golden Memories" is a tablet app that has never existed before, connects analog and digital generations and offers barrier-free access for all. "These are family photo games that each family can create individually with their own photos," explains the astrophysics graduate, who at the beginning of her idea initially thought of helping people who suffer from memory disorders. But she soon realized that involving the younger generation in this project would offer the advantage of playing together, i.e. across generations. Personal reasons tipped the scales in favor of getting back into family pictures.
Diagnosis of dementia - chain reaction of memories
In a phase in which the photo historian did not quite know how she could use her skills, experience and knowledge socially, she received a dementia diagnosis for the third time within the family. Today, she sees this communication as a kind of initial spark, through which she initially evoked memories through photos in her interactions with family members. "I first started unconsciously playing with old family members and our old photographs. Then I realized the power of these photographs. The elderly could often talk for two hours over just one photograph, which means the images act like catalysts. People suddenly remember events that were gone, they relive that situation. It's a chain reaction of memories, so to speak. There are different types of dementia, but what they all have in common is a loss of identity, and that's where old family photos can play a wonderful role. They can help seniors remember who they were and reconstruct forgotten chapters of their lives. That's what convinced me." Pérez González was in her early 20s when she first encountered dementia in her family and says, "I have a long experience with this disease. I've seen what this disease does to people and also to families. Everyone suffers a lot. The disease is not curable, but with the new app I can now do something good, namely improve the quality of life of these people -at least for a short time."
The designers of the milkmonkey agency bring the breakthrough
Actually, it was the pandemic that eventually steered the project in a different direction, as the analog photo games with the paper images could no longer be continued after the contact restrictions. "So I had to find a solution to keep the project going," the researcher explains. "And then a friend, who is also a photo historian, got me thinking about creating an app." Since Pérez González had neither financial resources nor digital know-how to make the idea a reality, she contacted the design agency milkmonkey in Düsseldorf, Germany. "That was the greatest luck you can have," she says, beaming, because "the head of the agency, Alain Yimbou, a lecturer in interaction design and retail design at the Düsseldorf University of Applied Sciences in the design department, was convinced of this project right from the start."
The whole family gets involved...
"What I like about this concept is that you play from the first moment," explains Pérez González, adding that the whole family is involved from the beginning, because the photos are usually in different households and have to be gathered first. "Then the younger members of the family can scan the pictures with their cell phones or tablets and upload them to the gallery," she says, explaining the process. You could label each photo, and that's important, she says, because sorting is already the start of memory training for the older ones. And the younger members of the family also needed the help of the older ones, as they would give the information that characterized the picture. By asking questions like, `Who took the picture? `, or: 'Who is depicted? `, some then practice while others learn the background of how a photo was taken. "Things that family members couldn't remember clearly, they reconstructed with imagination. This dialogue is wonderful because sometimes we don't remember exactly where we came from or what our families used to do," she says. "I, too, have found photos in my family, and that has been a great discovery for me sometimes. It encourages intergenerational dialogue," the researcher points out. "Our parents are still totally analog, we work analog and digital, and our kids are already totally digital."
Once the photos are uploaded, they can then be classified, i.e. divided into categories such as family, hobby, travel, etc.
Memory, quiz or postcard game
The fun begins with three different game methods. With the memory method, one can choose comparative pictures or combine a picture with a text in an increase in difficulty. "There can then be in the text, for example, the year of the photo." Or one uses the app as a quiz. "To the question, 'When and where were you born? ` after answering, you can then find pictures from the time in Google, for example Barcelona 1920, as well as the pictures from today and compare them." Another interesting option is old postcards, which are scanned from both sides and often provide written information about the image. Postcards of one's own can also be created in this gaming process and supplemented with current information on the back. "With a double-click, elders can then write or verbally record their memories of those moments on the postcards." Over the years, these interactive, individual family games will be increased to at least 15 different games. Pérez González still has more than enough ideas.

Photographs as significant and interdisciplinary objects

Photographs have always had a special significance in the life of the scholar. It was not without reason that she wrote her doctoral thesis on Iranian portrait photography of the 19th century and Persian painting. Even during her studies in Barcelona, she was intensively involved with photography. She visited exhibitions and read her way through the extensive literature. The social aspect was always in the foreground. After graduation, she worked a job, saved up and went on an extended trip to Asia for about two and a half years, during which she did some photo reportage. "I did work on Tibetan exile in India, on children in Cambodia who have amputated hands and feet from mines." She even developed a piece on women's work in Asia into an exhibition and catalog, saying, "At that stage of my life, photography was a way to criticize ills in the world." Upon her return, she then focused on 19th-century photographs for her doctoral dissertation. Her perspective changed and she examined so-called objectivity -especially, the lack of objectivity- in 19th century photography. "How much truth was there in photographs? How much could be manipulated? For me, at that time, the process was more important. How could you create a photograph using the various early photographic processes in the 19th century and, even more interesting to me, how could you manipulate photographs in the studio and darkroom? Back then, creating a manipulated credible photograph was not a given. Today, as the founder of 'Golden Memories`, the images take on a very emotional meaning for her more and more. "Own pictures can move people emotionally and help to make life easier and more beautiful! Even if it is only for a short time."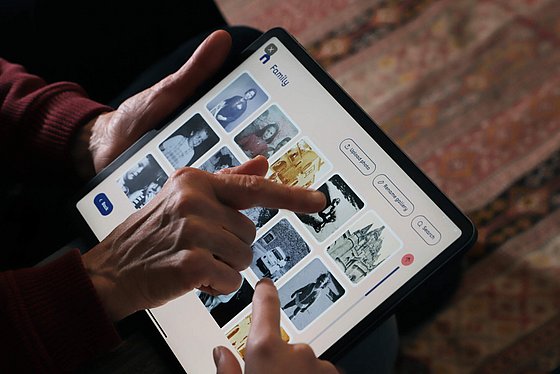 A picture says more than 1000 words
Your project aims to help people with dementia in particular. There is the famous slogan 'A picture is worth a thousand words'. This inevitably raises the question of whether photos are a better way to reach dementia patients? "Yes," Pérez González promptly answers, "it is this power of pictures that brings people back to that moment when they look at them. The images reawaken the memory, and they do so even beyond the image or motif. I'm firmly convinced that without the pictures, you wouldn't be able to reconstruct many passages of people's lives." The memories are in the photos, the scientist knows, and she is also aware of neurological studies that use images with patients*.
App with research potential usable from May
"My original desire with this project was to help people and their families. But then as my project progressed, I realized that this app has insane research potential as a research tool." With the agency milkmonkey as IT experts and Pérez González as a photo historian, the project is already interdisciplinary, and neuroscientists and people working in care as well could strengthen it in the future. "I'm now building a network of institutions that have an interest in this app so that they can also do research with this app," she says, because this research and the related upcoming results could also be used in the future to create more versions of this app as a larger database internationally. "Right now there is already a landing page www.golden-memories.de, reveals the founder. "We are also already represented with it on Instagram and Facebook. Updates are being made all the time. We hope to have the app ready for download in May. It will be free to use and accessible to all family members. The website works in three languages, German, English and Spanish, because accessibility also includes language. Especially older people don't dare to communicate in foreign languages."
Golden Memories is no ordinary project. Carmen Pérez González has invested a lot of heart and commitment to make the app a reality. She is also active in crowdfunding and concludes by saying, "All the revenue this app generates will be reinvested in the project so we can continue,"
Certainly, she has set a ball rolling with this app, the far-reaching usability of which cannot yet be estimated in our digital age.
Uwe Blass (conversation from 01/27/2022)
Dr. Carmen Pérez González is an astrophysicist, photo historian and lecturer in history at the Faculty of Humanities and Cultural Studies at Bergische Universität. She is the founder of the project "Golden Memories".