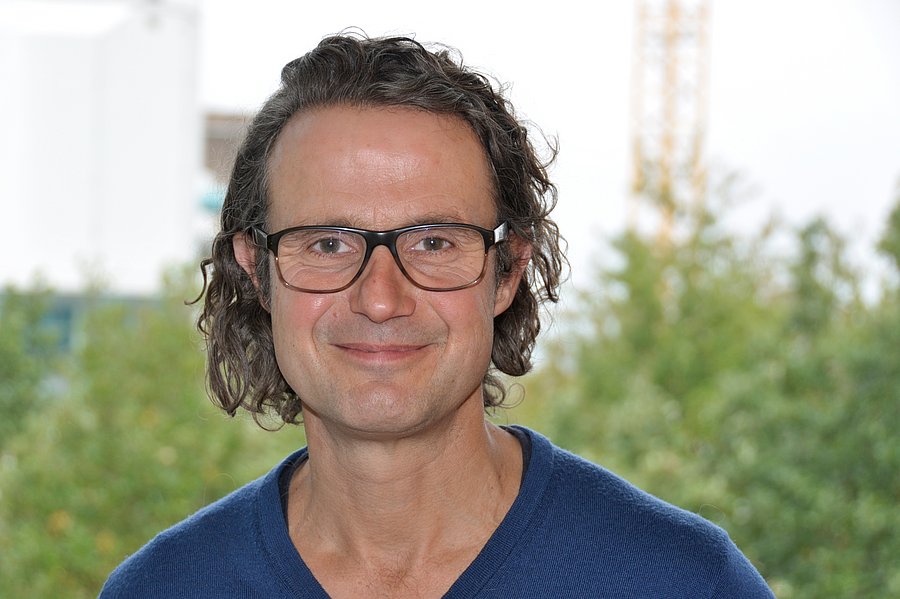 "Family Business in the fifth generation"
Industrial designer and owner of the Janssen family manufactory, Andreas Kalweit, produces the most successful pastry machines in the world
The blue Cookie Monster from Sesame Street has become a cult figure primarily due to his ravenous appetite for cookies. His ever-enthusiastic exclamation, "Cookies!" is certainly still in everyone's ears. Small baked goods are produced in many German households, especially in the run-up to Christmas. Enthusiastic amateur confectioners delight family and friends with their favorite recipes, which range from aniseed cookies, spritz cookies, Spekulatius and vanilla crescents to cinnamon stars.
One person who knows all about the variety of cookies, recipes and especially their shapes is Andreas Kalweit, an industrial designer from Wuppertal. For the past twelve years, the trained metalworker, mechanical engineer and designer has been running, together with his wife Dr. Petra Gersch, the family business of Niederrheinische Formenfabrik Janssen GmbH - the company name is derived from Kalweit's relatives on his mother's side - which specializes in the manufacture of cookie molders.
Future needs origins
Andreas Kalweit is a full-time professor of Manufacturing & Material Science in Industrial Design at Bergische Universität. However, he is also the owner of a traditional family manufactory that produces pastry shaping machines in Krefeld in the fifth generation. The slogan "Future needs origin", philosophically coined by Odo Marquard, is also very fitting, with which the company refers above all to reliable quality. It all began in the 19th century, when Kalweit's great-great-grandfather set a new direction for pastry production with an innovative idea. "At first, there were molders who carved wooden molds that were used to make cookies," he says. "So wooden boards with carved designs. That was a big market at the time for families who wanted to have their own molds. But in order to be able to make these molds more professionally, my great-grandfather then approached the Werkkunstschule in Krefeld. There were many sculptors there who were unemployed." To be able to carve the forms precisely, you need an understanding of arts and crafts, Kalweit knows, and his ancestor recognized that and hired the artists. "You have to be able to transfer the likeness into relief," he explains of the process, "it's not that easy and no carpenter can do that as a rule, which means you have to be able to draw and carve and you have to have experience with dough, because the outlines have to be the same thickness or the cookie will burn on the sides." From then on, the company made custom wooden molds for more well-heeled families. Designs included costumes, statues or equestrian figures, and family symbols, which were carved in intricate detail.
A cotton cloth facilitates the work
These flat wooden models were then further developed in the next generation into wooden scrolls, into which the desired patterns could now be carved in a round shape. "They then used a wire rope to cut off the excess dough and then rolled the roll with the dough pieces over a cotton cloth," Kalweit says. "They then stuck to the cloth. The reason I tell you that is because that's the basic principle of all speculoos and cookie machines." The cotton cloth sucks the dough out of the mold. That's why people still talk about suction roll machines or suction belt machines, he said. Other large companies, such as Aachen-based Printen and chocolate manufacturer Lambertz, also work according to this principle. "We helped develop these machines back then," explains the designer, "we weren't the only ones, but we were there."
The third generation finally came up with the actual, initially hand-operated pastry machine, which made the work much easier. New developments also brought new opportunities, because electrification meant that the machines could now be designed to be wider, so that more pastries could run through the rollers.
Although this principle of cookie forming has hardly changed to this day, the demands on the design have become more and more demanding in recent decades due to a wide variety of recipes and hygiene standards. Modification of the process principle (from suction belt principle to cutting principle) in the fourth generation also made it possible to shape fattier, crumbier doughs. This marked the beginning of a differentiation from industrially mass-produced pastries. With the new cutting principle, many different doughs could be processed and a greater variety of recipes could be achieved.
The industrial development can be seen very clearly at Manufaktur Janssen, and all of the managing directors* have always oriented themselves to the needs of the users when building the machines. "That's how they got into all the pastry shops and bakeries," says Kalweit. "There, a wide variety of products are baked on baking trays, i.e. breads, cakes or cookies. And so that you don't have too many sheet formats, you have agreed on standards. Our machines responded to these standards, i.e. the machines are based on the sizes of the baking trays, most of which are available in Europe. "With a modern, appealing design, Andreas Kalweit and his wife Petra Gersch and their team led the family business into the 21st century. "Actually, every generation has made an invention, a further development, which has then always lasted a generation. That was also our claim when we took over the business, that we would design the machine so that it would last 30 to 40 years. Today, we take machines in for repair that are from 1960, and they work perfectly if they are well cared for."
Customers prefer regional products
Machine automation was not always a blessing, Kalweit knows, because from 1945 to 1980, he says, it can now be proven that machines also made jobs redundant. "That had an impact on bakeries," he says. "Many had to close or went over to large-scale operations. Then, starting in the 1990s, it was the other way around again." Consumer attitudes toward products change with each generation, he says. "Pastries tend to be more regional, meaning I get my bread from the baker on the corner, and I know that's where the eggs and flour come from." Customers also prefer cookies made locally for the same reason. "With this, bakers are making their own cookies again. From that point on, we sold a lot of cookie machines again, even though we're a niche market." The customer, he says, is again focusing on individuality with his own logo cookie or traditional cookies from his grandfather's generation, ushering in a revival, so to speak.
Thousands of machines in bakeries and confectioneries worldwide
Reliability is the be-all and end-all, Kalweit knows, because delivery problems due to defective machines can quickly bring a business to its knees. "Confectioners and bakeries today are very keen to buy machines with one hundred percent service or to have the certainty that the machines will never break down. That's our unique selling point, because our machines have always been designed that way, they never broke. We are now almost unique in the market, emphasizes the company owner. That's because the market is too small and return on sales is not a business model for new entrants, he says. "We've brought our products up to date, and it's that unique selling proposition that we enjoy. People know that if you buy Janssen, you don't have to worry about it anymore." Many thousands of Krefeld's pastry shapers are in bakeries and pastry shops around the world, and about 50% of its clientele comes from abroad. "These are usually people who come from Germany by tradition. They have emigrated to New Zealand, to Guadeloupe, to America or Australia and use our machines there." The international customers are often picked up at Düsseldorf Airport for this purpose and then test the recipes they have brought with them in the so-called baking laboratory in Krefeld. "Of course, we also have recipe books with basic recipes. These are reference doughs where the customer can look to see if his dough is similar in recipe," Kalweit explains the procedure.
"For the pastries, it comes down to the variable forming rollers, which can be changed within seconds. The machine can also produce whole sheet cake bases that follow standard sizes." The investment is worthwhile, he says, because the machine is very well thought out and the company also always receives very good feedback for the operating instructions, which are rich in pictures and well explained with explanatory videos.
Company receives German Design Award
In addition to functionality, design is also an important success factor. Janssen received the German Design Award last year. "We even received several internationally renowned awards," Kalweit is pleased to say, "the aspect in this case was design, ergonomics, hygiene and also functional properties of the machine. The machine must always be easy to operate, the handling low-threshold. Everything must be self-explanatory from what we have learned so far. At the same time, it must be hygienic and easy to clean," he says, adding that this is almost a contradiction in terms of design, because if something is to be easy to operate, it needs a correspondingly large number of spring elements to make it as easy as possible. But more components also mean many slots, notches and gaps in which dough residues settle. This then contaminates the machine and germs can develop. "The design jury recognized that we managed to do this."
Forming rollers are the individual secret of the Krefeld-based manufactory
Every supplier dreams of a unique selling proposition that Janssen's machines guarantee through their individually manufactured forming rolls. "There are wonderful websites of Belgian confectioners in Brussels or Antwerp who produce with our machines," he reports enthusiastically, "and in Germany many well-known bakeries and confectioners work with Janssen pastry shapers and produce high-quality products. Most customers have their own logo or traditional coat of arms. These logos can be engraved into the cookie and served with a cup of coffee. There are very high-quality molds there with wonderful ornaments." And the famous Saxon porcelain manufacturer Meissen also uses the Krefeld machines in company-owned confectioneries to produce its famous sword brand for cakes. And that's what the molding rollers are needed for. "I can convert these within a minute, which means the customer buys the machine with usually three to twelve rolls. For the graphic experience, we also have our own design department, which then creates the desired patterns, develops the first sample cookies and engraves them into the rollers after they have been assessed."
Plagiarism, a huge problem!
Success is always also a double-edged sword, it brings enviers and imitators on the scene. A foreign company has copied a German company's machine exactly. There seems to be no sure protection against this. "In the example given, we also have the case that they have not only copied the machine, but have also exactly copied our YouTube films. Even the recipe books are 1:1 on their website." And since it is a Turkish company, EU directives do not apply either, it is a legal vacuum.
"We no longer manufacture this machine now and have developed a new one. It's much better and will be out at the end of the year. And we have now also patented it," laughs Kalweit bitterly, because a patent application also means an additional entrepreneurial burden of several tens of thousands of euros for Europe and the United States.
Only quality convinces in the long term
"We make the turnover with the large machines and reinvest in further developments," says Kalweit. "We create small machines that we also always want to submit for design awards, and we assume that those will be copied again. And we will tolerate that again," he explains, because it shows the company's development potential. "If it gets too tough, we will of course take legal action, as we have meanwhile also learned and invested in terms of protection law." The accomplished industrial designer always keeps up with the times with his innovations. He and his team are considering lactose-free or gluten-free products, which pose a new challenge to equipment, as well as the evolving regionalization of products, which could make supply chain bottlenecks that are currently plaguing us across Europe in the wake of the Ukraine war obsolete.
"As a small company, we have always placed a lot of emphasis on very well-trained employees who can react, develop and produce immediately at the highest level, i.e. food standard. We would be able to respond to any change in terms of know-how. And that's the strategy we think, that's where you can exist as a family business for the next generation." 2022 is also an anniversary year for Janssen. The family-owned company is celebrating its 150th anniversary.
Uwe Blass
After completing an apprenticeship as a factory fitter, Andreas Kalweit studied mechanical engineering at the Niederrhein University of Applied Sciences, then industrial design at the University GH Essen, graduating with a diploma in both courses (mechanical engineering with distinction). Since 2012, he has been a professor for "Manufacturing & Material Science - Focus on Construction Technology and Systems in Design" at the University of Wuppertal.