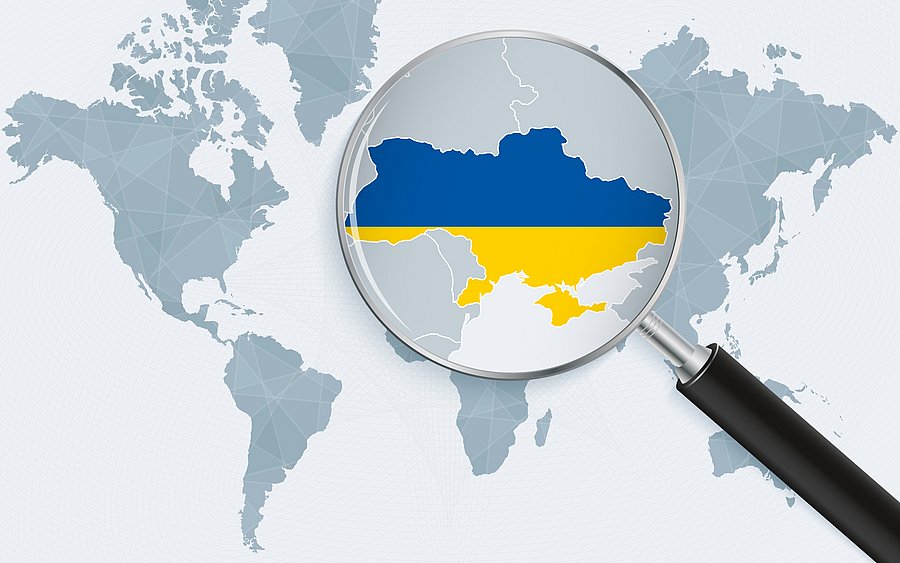 In Touch - Bergische Uni takes on social responsibility
Andrea Bieck, Head of the International Office about the new university offer "Solidarity with Ukraine

On February 24, the Russian army invaded Ukraine on the orders of President Putin. On March 04, the German Rectors' Conference (HRK) declared solidarity with Ukraine and Ukrainian universities, and on March 22, Bergische Universität expanded its Internet homepage to include a page with information and offers of help for refugees from Ukraine, students, staff and helping citizens. Titled 'Solidarity with Ukraine`, it offers a comprehensive aid program and follows its mission statement. The university's own network project In Touch Wuppertal plays an essential role in this.

"Bergische Universität Wuppertal assesses the Russian war of aggression against Ukraine as a profound caesura for Europe and the world," says Andrea Bieck, head of the International Office. Together with Sarah Laureen Just from the International Student Office, they are the first point of contact for any upcoming questions refugees from Ukraine may have about the university. "Like the other universities in North Rhine-Westphalia, we condemn the aggression in the strongest possible terms and stand firmly by Ukraine's side," Bieck emphasizes, "Possible funding for Russian projects or individual funding for mobility to and from Russia will be suspended for the time being, as recommended by the Alliance of Science Organizations." In this context, she refers to the mission statement of Bergische Universität, which in parts describes the claim to assume social responsibility and to engage in cooperation with actors within and outside the science system for this purpose. "As early as 2015, the network project 'In Touch Wuppertal' was initiated for the integration of refugees in their studies and careers, with which the university wants to contribute to overcoming social challenges resulting from war, persecution and violence," explains Bieck, because more and more people are leaving their home countries and seeking refuge in Wuppertal and the Bergisches Land region. Quite a few of them had been working as scientists, had already studied or were planning to study.

Nearly 50 students from Ukraine are enrolled at Bergische Uni

"The university has maintained scientific cooperation with Ukrainian universities for many years and continuously monitors current developments. We are in contact with our Ukrainian partners. Some refugee Ukrainian scientists have already arrived in Wuppertal and are actively supported by the university," explains the head of the International Office. This includes assistance with financing, employment, accommodation, language acquisition, childcare, etc.

In the summer semester of 2021, more than 8200 Ukrainian students were studying at German universities. According to the HRK, there are 257 cooperations between the two countries, involving 113 German and 89 Ukrainian universities. "In the winter semester 21/22, 47 students with Ukrainian citizenship were enrolled at the university, of which 27 were foreign students* staying in Wuppertal with a visa for study purposes," Bieck explains the situation in Wuppertal and suspects that in the course of the influx of students who have fled Ukraine, the number will undoubtedly increase significantly from the summer semester 2022.


In Touch - An aid project for refugees

In the context of the refugee crisis in Germany in 2015/2016, universities were among the first to help refugees with initiatives. At the time, Bergische Universität initiated the project 'In Touch Wuppertal` to integrate refugees. "More than 40 percent of the total population in Wuppertal has a migration background - the highest proportion in NRW. In this respect, immigration must be seen as a central task at the university location," Bieck emphasizes and specifies: "With 'In Touch Wuppertal', the university is pursuing the following overarching goals: (a) to recruit suitable, motivated refugees as students, (b) to integrate them, to qualify them professionally, personally and socially / interculturally and to lead them promptly to a degree, which will enable them (c) to position themselves on the regional, national and global labor market or to participate actively in the reconstruction in their home countries. In Touch Wuppertal' has been expanded in recent years to cover all phases of the student life cycle and is coordinated centrally at the International Center - International Office.

In addition to an orientation program for guest students and buddies, the program offers preparatory and accompanying German courses in the language of science, courses in English and German for professional language skills, intercultural training, measures for extracurricular qualifications during studies, as well as counseling, information and networking services for the transition from study to work. In the 'In Touch Career Digital' project module, digitization itself is used as a tool to adapt teaching, study organization, advising and support services to the new challenges posed by the Corona pandemic and to realize goals that were previously difficult to achieve, such as flexibility, individualization, monitoring during studies, and inclusion. In this respect, the university has a wide range of tried and tested formats for the integration of refugees, which are being selectively expanded for the specific needs of refugees from Ukraine and supplemented by initiatives and offers from the faculties.

Further assistance offered by the German Academic Exchange Service (DAAD)

In terms of support, Bergische Universität works closely with the DAAD. "For years, the DAAD has been implementing various programs and measures together with universities and partner organizations to support the integration of refugees at German universities," Bieck says. "To this end, the German Federal Ministry of Education and Research (BMBF) has provided annual funding of around 27 million euros until 2022. The state of North Rhine-Westphalia, in cooperation with the DAAD, is also supporting 30 universities with 'NRWege ins Studium` in setting up offers that prepare students for and accompany their studies, expanding advisory structures and awarding scholarships to particularly high-performing refugees." Particularly innovative formats of internationalization would be tested within the framework of the 'NRWege Leuchttürme`, flanked with digital elements and made usable for other universities. "Bergische Universität was and is successfully represented in all funding programs with 'In Touch Wuppertal` and has so far been able to raise nearly EUR 2 million in funding for the integration of refugees."

The DAAD is in close exchange with its member universities and the funding ministries on the steps that currently need to be taken and regularly provides information on the support and assistance available for Ukrainian students and academics. Information on this is published regularly on the website www.daad.de/de/der-daad/ukraine/hilfsangebote/.

Language remains the be-all and end-all

One of the biggest challenges is language. "Students who have not acquired German as a native language or in early second language acquisition are confronted with major linguistic challenges at university, i.e. in the area of academic language, the mastering of which is essential for the successful completion of studies and possible career entry in Germany," Bieck knows from experience. Many of the refugees had already started with an uncontrolled language acquisition after their arrival in Germany and often came to the university with a deficient and faulty knowledge of German. Although this faulty language rarely leads to problems in communicative situations in everyday life, they become all the more apparent in the university context/study. "The Language Teaching Institute (SLI) has therefore been part of the core team of the 'In Touch Wuppertal` - project group for the further development of concept and measures from the very beginning." In this context, Bieck explains, one must also consider that not only refugee Ukrainian students are currently arriving in Wuppertal, but also a large number of students from third countries who had been studying in Ukraine until the start of the hostilities. "Generally speaking, international students are an extremely heterogeneous group of students whose study experience requires a differentiated approach on the part of the university in accordance with the specific constellations (e.g. cultural origin, language skills) and correspondingly adapted support. Therefore, there are a variety of target group and study success-oriented support services offered by the university / SLI for international students and doctoral candidates, especially in the initial study phase, but also in the further course of the stay up to the transition into the labor market."

Russian students can continue their studies without restrictions

Like all German universities, Wuppertal has Russian students who have now realized through the media that the invasion of Ukraine is not a drill. This brings a lot of grief and also fear. That is also being thought about. "Russian students and researchers at the university can continue their stay without any restrictions," Bieck says clearly on the matter. "In working out coping strategies in difficult study and life situations, the Central Student Advisory Service supports students within the framework of psychological counseling services." These could be viewed at www.zsb.uni-wuppertal.de/de/beratung/psychologische-beratung/.

Voluntary commitment

Every bit of help counts. The solidarity program also includes support measures that university employees or committed citizens can provide. According to Bieck, "Information for volunteers involved in refugee assistance is essentially bundled on the information pages of the city of Wuppertal and can be accessed at the following link: www.wuppertal.de/rathaus-buergerservice/europa/ukrainehilfe-informationen.php; The university offers students, employees* and citizens* who would like to contribute and meet Ukrainian refugees in their native language a free online introductory Ukrainian course from 21.04.22- 21.07.22, which provides basic knowledge of the language." In addition, there is the possibility to become a buddy to accompany and support students and scientists*.

House of Integration connects institutions

"The close cooperation with the municipalities in the region and in particular the Wuppertal House of Integration, which connects institutions that look after immigrants and refugees in Wuppertal and in which, in addition to the "Immigration and Integration" department of the city of Wuppertal, the Wuppertal Job Center, "zebera" is also located, is of particular importance for the acquisition and quality assurance within the framework of 'In Touch Wuppertal`," says Bieck. "A large number of prospective students with a refugee background have been and are being referred to the university via the In Touch partner network. The regular offer of information and counseling formats in cooperation with the House of Integration ensures short distances for refugees and other immigrants interested in studying as well as for multipliers. In addition, a regular exchange of information takes place."

On the Bergische Universität website, interested parties can find an extensive helping catalog of answers under "Solidarity with Ukraine". For further questions, Andrea Bieck recommends: "Prospective students should contact the International Student Office (intsek[at]uni-wuppertal.de). For other interested parties and questions, the International Center (icenetr[at]uni-wuppertal.de) acts as the first point of contact, which refers students to other offices within the university if necessary or clarifies open questions."

Uwe Blass (interview from 03/24/2022)

Andrea Bieck is head of the International Office at Bergische Universität.