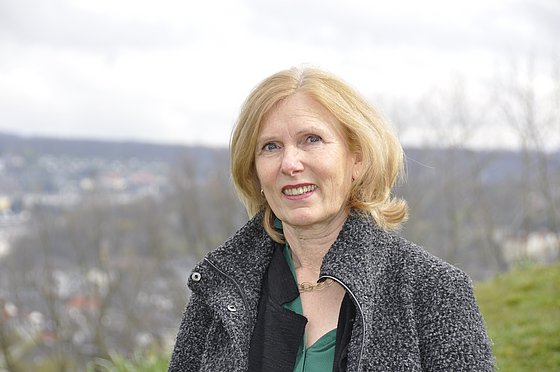 A teacher must also be a performer
Vocal coach Christa Warnke discovers the students' voices

My father could sing very beautifully, and I still have that voice in my ear, says Christa Warnke, who has been directing the talents of young prospective music teachers as an artistic employee in the music education department at the University of Wuppertal since 2005. Many people, like Warnke, have been able to experience a musical upbringing through their parents' homes, either because their parents made music themselves or made sure their offspring were trained in singing or an instrument at an early age in the city's music schools. "My mother played the piano, and there was an instrument everyone had to learn at home," she says. Inspired by her father's choir conducting, she took it up herself at an early age, saying, "You can experience a permanent sense of happiness in choir singing." But life's paths often develop differently than expected.

Study start at the age of 34

"I've always wanted to study music," says Warnke, but first I had to take care of my own four children, who made studying a long way off. The turmoil of the fall of the Berlin Wall gave their passion another unplanned turn. Against the current, the western family moves to Dresden in 1991 for the father's professional reasons. Here Warnke experiences the excellent East German child care. "I came from the West and suddenly all the children were taken care of. I no longer had to cook lunches and whatnot. That was something completely new for me," she explains, "and then I could study." At 34, she took the decisive step and began studying music.

Warnke teaches music through movement and dance

Warnke has lived and worked in Saxony for 14 years. She teaches voice and choir conducting at the University of Church Music in Dresden. There she meets many highly qualified musicians who, after a purely classical education, also want to get to know pop music. Warnke's job is to introduce them to this style. "The lifestyle of pop music was not familiar to them at all. They were classically educated from childhood. There were also Crucians, former members of the Dresden Boys Choir, who had grown up very differently." Warnke teaches music and body awareness, as well as an intuitive and direct approach. "I think in pop music, the most important thing is the meter, which you can move to, which you can dance to. A body feeling, after all, is not important in church music, and that was a whole new experience for many."
German pop band Silbermond emerges from choir work

Christa Warnke is considered the discoverer of the band Silbermond. "I would say they discovered themselves," she says modestly, "they became successful because it was a lucky coincidence." At the time, Warnke was leading a Bautzen youth choir with 120 singers as part of an open youth work program, a project she is still proud of today. "We put on a semi-professional show every year," she explains. Before each choir rehearsal, she always offered a 20-minute individual coaching session. "That's when the Stefanie Kloß was always there, always top prepared, always super curious and talented. She was really a very gifted singer in terms of interpretation. She was able to bring out what was inside her the best. I could definitely give her a few things, a few techniques, but she made her way on her own otherwise." Today, Warnke is happy every time she hears a Silbermond song on the radio, "and a little bit of me, I still hear out," she laughs.

A teacher must also be a performer

All music students at the University of Wuppertal have to pass a testing procedure before they start their studies. "We've put a lot of thought into this and have put together a catalog that we use to assess this as well. That applies to exams as well as the aptitude assessment process." Once enrolled, Warnke also prepares her students for their upcoming teaching careers through live performances. People need to develop, she said, and they can do that especially well by presenting themselves on stage. Students are skeptical at first, she says, because their intention is first and foremost to be in the teaching profession. "But a teacher must also be an entertainer, he must be a performer and he must be able to fascinate." It is important in this context to believe in his charisma and presence, assures the educator. On top of that, she says, it's a gratifying feeling to get shy people to step into the spotlight, because the happiness they experience afterwards changes them. "The students love it. You join bands, you sweat, you dread and you end up celebrating with each other. These semester concerts have been held at Live Club Barmen for several years."

Feel and discover the voice

The singing teacher also offers a so-called singing workshop outside of the university, in which amateurs can strengthen, feel and discover their voice under professional guidance. "We all have a voice! It's there, it's just sometimes hidden and has to find its way," says Warnke. There is a saying that goes, "You can't sing!" To this she says, "I think we suppress our singing a lot with our intellectual, businesslike nature. But I just have to find the approach, and the voice will come." Warnke takes away the fears of those interested in singing by pulling a lot of pranks herself, bending or grimacing, because that loosens people up, makes them laugh. A lot of it works through breathing, she says. "Singing is breathing and through my singing or my breathing I can manipulate a lot. Then others realize, oh, that works for me, too."
As is well known, one is never too old to sing, and the nice thing for Warnke is that the older singers in particular are often much more uninhibited and dare to sing more than the younger ones.

Music in times without performances

The pandemic has ended all but small exceptions of all artists' performance opportunities for over a year. Instead of frustration and hopelessness, Warnke can now enjoy the music more. "I find it very sad not to perform and teach very little live, but I also really enjoy the time because I have the music. I love being in my study and sitting at my grand piano." While her concert plans of existing programs are postponed again and again, she is working on a new concert evening at home with the music of Joni Mitchell. "We'll see," she says at the end, "if there's enough material then."

Uwe Blass (Interview on April 19, 2021)
---
Christa Warnke has been an artistic employee for the subject of singing with a focus on jazz pop rock at the University of Wuppertal since the summer semester of 2005.