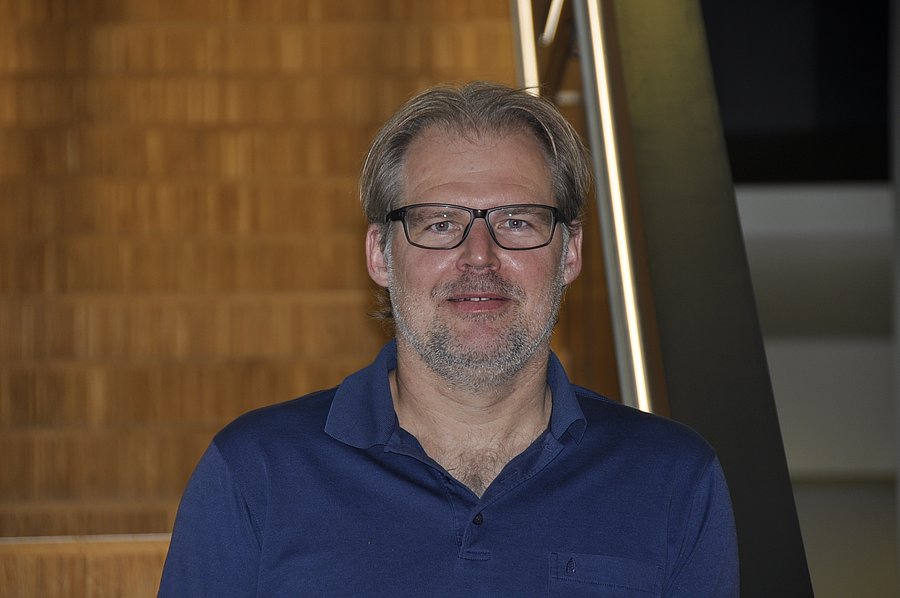 The moving drop of water
A 100 years ago / Jahr100Wissen interview with Prof. Dr.-Ing. Uwe Janoske on the presentation of the Rumpler Tropfenwagen (drop vehicle) at the 1921 Berlin Motor Show.

The German Museum of Technology in Berlin and the Museum of Technology in Munich are home to the last two automobiles of a vehicle that made its debut at the 1921 Berlin Motor Show: the so-called Tropfenwagen (drop vehicle). Which vehicle is it?
Janoske: The vehicle is a design by Edmund Rumpler (1872-1940). He built a streamlined vehicle for the first time. And he used his knowledge from the development of aircraft to do so.

Where does the name Tropfenwagen (drop vehicle) come from?

Janoske: The name is derived from the shape of the vehicle. If you look at the vehicle from above, the shape is reminiscent of a falling drop of water.

The road vehicle was actually a stopgap solution by its builder Edmund Rumpler. For what reason?

Janoske: Edmund Rumpler, who studied mechanical engineering at the Vienna University of Technology, founded an aircraft construction company after working in the automotive industry before the First World War. During the First World War, more than 3000 aircraft were built. Due to the Treaty of Versailles, Rumpler was no longer allowed to build aircraft after the war and used his knowledge of automobile and aircraft construction to develop the "R-T-Au", the Rumpler drop vehicle.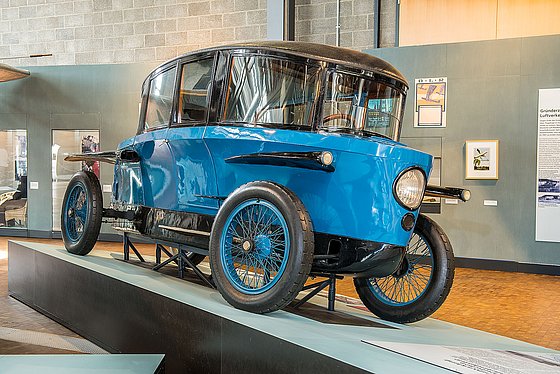 The Tropfenwagen (crop vehicle) was designed with aerodynamics in mind and was fundamentally different from all other vehicles. What made it so different?

Janoske: The most striking difference to vehicles of that time is the streamlined bodywork, which was inspired by the shape of a falling drop of water. With the help of the body and the curved windows, the result was a cw value of 0.28 with an inflow area of 2.4 m². A value that is in the order of magnitude of some production cars of today. In addition to the streamlined shape, Rumpler installed a mid-engine and used a swing axle instead of the usual rigid rear axle, which he had already patented in 1903.
Rumpler was the first to use his patented swing axle on the rear vehicle, which was adopted by later manufacturers. Did this make the Tropfenwagen (drop vehicle) more manoeuvrable?
Janoske: Due to Rumpler's design, it could happen that a tilting moment occurs when deflecting, which can lead to critical driving situations at the limit.

The vehicle concept was later even used in racing cars such as the Benz Tropfenwagen (drop vehicle). Nevertheless, the Rumpler Tropfenwagen (drop vehicle) was not a commercial success and production of the almost 100 mobiles was discontinued after only four years. What were the reasons for this?

Janoske: There were numerous technical problems that stood in the way of the car's success. Besides the reliability of the engines and the steering, there was no boot in the first models. The vehicle was mainly used as a taxi. The vehicle did not enjoy further success.

Uwe Blass (Interview on August 17, 2021)

Prof. Dr.-Ing. Uwe Janoske heads the Chair of Fluid Mechanics in the Faculty of Mechanical Engineering and Safety Engineering at the University of Wuppertal.
SDTB / C. Kirchner

By courtesy of the Stiftung Deutsches Technikmuseum Berlin