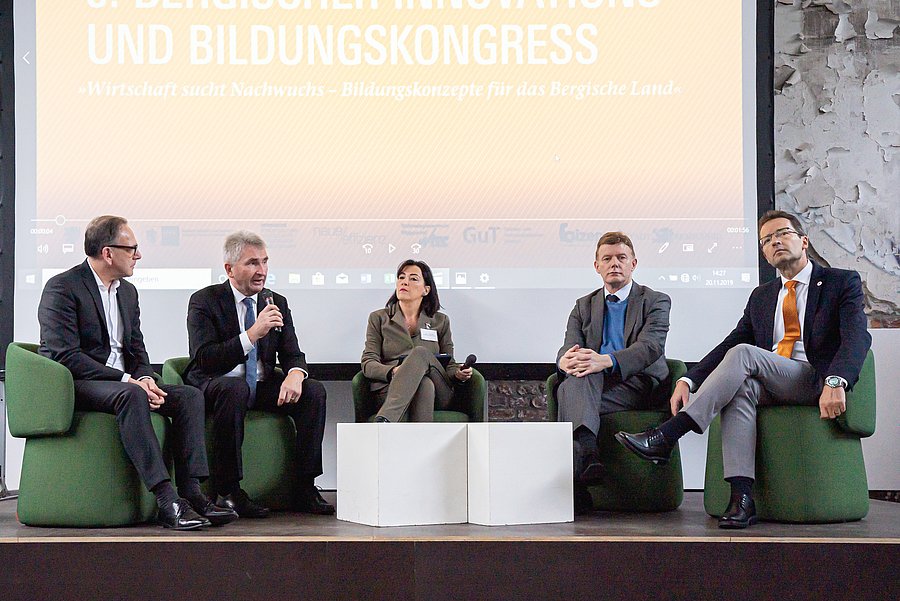 5th Bergisch Innovation and Education Congress
The Bergische Universität and the Bergische IHK together with the Bergische Struktur- und Wirtschaftsförderungsgesellschaft, the city of Remscheid and the technology centers in Wuppertal and Solingen invite you to the 5th Bergische Innovations- und Bildungskongress.
The congress is dedicated to the question of how companies in the Bergisches Städtedreieck can succeed in securing the urgently needed next generation of skilled workers. Demographic change is leading to tougher competition for the best brains and suitable skilled workers of tomorrow. More than ever, therefore, companies need to understand young people and their ideas about work and careers and offer them appropriate prospects. To this end, there are various studies and surveys that can help address young people in order to attract them to companies. The Bergische Universität has around 23,000 students. For companies in the region, this is a huge potential and a great opportunity to secure their next generation of academic specialists. At the interface between studies and career, the Bergische Universität offers companies and students appropriate opportunities to come into contact at an early stage and to develop a joint career perspective. In Workshop I, the congress offers the opportunity to learn about these possibilities on the basis of best practices and to exchange experiences. In addition to young academics, companies in the Bergisch region are in urgent need of suitable trainees. Here, too, it is important to understand young people and win them over for the company. In addition to presentations on how young people make career decisions and how companies can address young people, Workshop II offers the opportunity to discuss these issues with other companies and exchange experiences.
Press Releasehttps://www.presse.uni-wuppertal.de/de/medieninformationen/2019/11/20/30972-fachkraeftenachwuchs-fuer-die-region-sichern5-bergischer-innovations-und-bildungskongress-in-wuppertal/
Press release