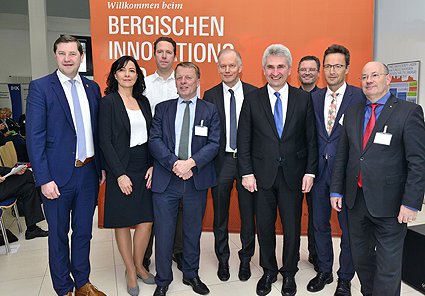 City triangle wants to remain leading innovation region:4th Bergisch Innovation and Education Congress (20.11.2017).
"The Bergisches Städtedreieck is one of the leading innovation regions in Germany. These are hard-earned laurels, but we must not rest on them!" This was emphasized yesterday by Michael Wenge, Chief Executive Officer of the Bergisch Chamber of Industry and Commerce (IHK), in front of more than 150 participants at the 4th Bergisch Innovation and Education Congress in the new Lindenhof in Remscheid.
Prof. Dr. Lambert T. Koch, Rector of the Bergische Universität Wuppertal, expressly agreed and added: "It is a matter of further deepening the cooperation between science and industry in order to be able to maintain and expand our leading position. And that's exactly what the congress today is again intended to contribute to." The motto, "Digitization - Challenges and Opportunities for the Bergisches Land Region," was also in keeping with this.
The event was organized by the Bergische IHK and the Bergische Universität Wuppertal together with the Bergische Struktur- und Wirtschaftsförderungsgesellschaft, the technology centers in Wuppertal and Solingen and the city of Remscheid.
NRW Minister of Economic Affairs Prof. Dr. Andreas Pinkwart, who opened the congress, emphasized in his welcoming address what an excellent reputation the region also has in Düsseldorf when it comes to knowledge transfer. The participants then discussed the opportunities arising from the digital transformation, particularly for the areas of production, start-ups and the automotive industry. In three workshops, scientists, company representatives and experts exchanged views on the various topics.
Prorector Prof. Dr.-Ing. Anke Kahl moderated the congress with over 150 participants.
The congress - moderated by Prof. Dr.-Ing. Anke Kahl, Vice Rector for Planning, Finance and Transfer at Bergische Universität - was aimed at executives and managers from companies, start-ups, people interested in setting up a business, scientists, associations, technology centers and political representatives.
With the fourth congress of this kind, the organizers wanted to set new impulses for the cooperation between business and science in the region. Everyone agreed that companies can ultimately be innovative and competitive only if they succeed in translating scientific know-how into digital business models, new products and processes.