International Students Team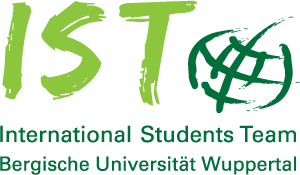 The International Students Team Wuppertal (I.S.T.) is an association of students at the University of Wuppertal. The team consists of students who have already had the opportunity to gain experience abroad during an exchange programme and who are now volunteering to help international students find their way around in everyday life in Germany and in Wuppertal.
There is an extensive range of joint activities, as well as a buddy programme, which is intended to strengthen solidarity among the students and create synergies.
All information about the International Students Team and its work can be found on the I.S.T. Wuppertal homepage.The I.S.T. also provides information via its social media channels on Facebook and Instagram.