Orientation
You can find our offers about campus tours from the Central Student Advisory Service (Zentrale Studienberatung - ZSB) here.
Guided campus tours in English
There will be campus tours held in English on
Tuesday, 27th of September, at 2:00 p.m.
and
Thursday, 29th of September, at 2:00 p.m.

Registration:
by mail to: fabian.andricevic[at]uni-wuppertal.de
Registration is requested but not required to participate.
Meeting point:
We will meet up in front of building B: Zentrale Studienberatung (ZSB) / Central Student Advisory Service on Campus Grifflenberg.
We look forward to seeing you.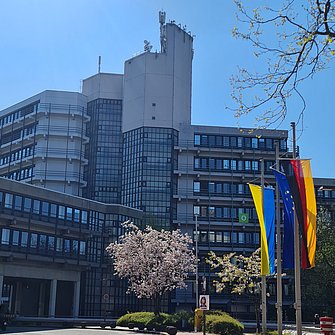 Bergische Universität Wuppertal
Abt. 3.3 - Internationales Studierendensekretariat (student admission and registration)
Gaußstraße 20
42119 Wuppertal
Germany
Personal consultation hours in the Student Service Center (SSC) right at the main entrance (building G, room G.08.16):
Tuesday 9 a.m. - 12 p.m.
For organisational reasons, office hours may change from time to time. You can always find the latest information about office hours on the Student Service Center page under "News".
Telephone consultation and advice:
Wednesday 10 a.m. - 12 p.m.